Detaljne stručne recenzije
Keeper Password Manager & Digital Vault is a standout password manager with multiple standout features like dark web protection, a secure cloud vault and encrypted chat services for the ultimate protection.
There are multiple segments of Keeper: web app, browser extension, desktop app and mobile app, which can be confusing for less tech-savvy users. Some of these sections have features that the others are lacking, for example, the browser extension doesn't provide a password generator or many of the features that LastPass brings in.
I've reviewed almost 70 of the best password managers, and Keeper is one of the most fleshed out, feature-heavy pieces of software I've seen. Read on to see what I thought of it.
Features
Keeper Password Manager is a little different from RoboForm, in that it doesn't provide a variety of record keeping options like credit card or identity. Instead, this program comes with a blank template that you can fill out as you please, by adding in a ton of custom fields and renaming them.
On top of the custom fields, you can add in some file attachments, or store these files in the private cloud vault, which I'll go into a little later. Attachments aren't exactly a unique feature, but they do add some flexibility to an otherwise limited storage solution.
There are, however, a few standout features.
BreachWatch
BreachWatch is a fantastic feature that scans your passwords and checks them against a database of phrases that's shared on the dark web. If your password has been breached, the software offers ways to change it to protect yourself. The entire process is automated and ensures that your key phrases are safe from the dark side of the internet.

KeeperChat
KeeperChat provides you and your business with an encrypted messaging platform for you to communicate on. This section provides end-to-end message encryption, two-factor authentication and integrates directly into the Keeper software. It's an ideal add-on for business or enterprise users, and ensures your entire business can speak securely. The feature is available for personal use as well, but the website emphasizes business usage.
Admin Console
This neat little space ensures you can manage all who have access to the Keeper account, while also establishing their roles, putting together teams and enabling two-factor authentication. It also provides a way for you to check who has logged into the Keeper space and at what time. I'll go into this more a little later.
Plans and Pricing
Keeper provides more paid plans than many other password managers. Their offerings consist of Enterprise, Business, Personal, Family and Student plans. All of them are reasonably priced, especially considering what other managers, like 1Password and LastPass, charge for the same features.
However, each plan has you pay an annual fee, though it breaks it down by month to make it look cheaper than it is. Make sure you pay attention to the overall fee before starting.
Regardless, both the Family and the Personal plans provide the same features: unlimited password storage, multi-device sync, 24/7 support and more. The difference here is that the Family plan supports up to five people. Of course, the Personal plan is a little cheaper than the Family plan. Then, the Student plan is the same as the Personal one, but with a discount!

You can also purchase the KeeperChat private messenger plan for a little less than the basic password manager plan.
The Business plan provides everything featured in the above plans, with additional features such as shared team folders, security audits, team management options and per-user two-factor authentication features.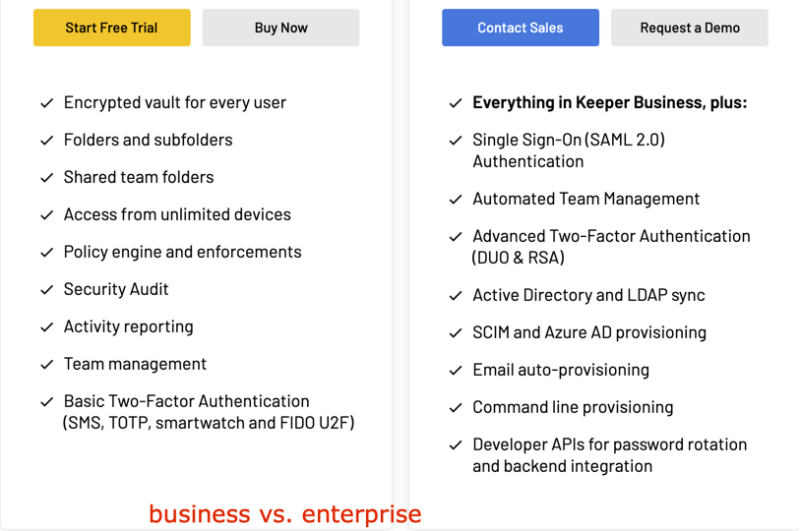 The Enterprise plan brings with it all of the features of the Business plan, but with a few extra things like automated team managing, command line provisioning and developer APIs.
Both are fairly priced, especially when compared to the business plans of competitors, like 1Password. However, note that the price is per user per month, rather than one set fee for the entire group.
You can try a free trial of the Business plan for 14 days, which is a nice touch for big businesses without experience in password management software.
Ease of Use and Setup
Upon logging in, Keeper Password Manager provides a useful Quick Start tutorial which is great for those with limited experience in this type of software. It starts by walking you through the record creation process. Then, it'll ask you to import passwords, download a web extension and activate two-factor authentication.
This is a fantastic addition for those who are less tech-savvy, and it even provides the option to skip for those who know what they're doing.
There's also an extensive password import system that supports anything from 1Password to Dashlane to LastPass, and you can drop in a CSV file if your current software isn't supported here.
After an import, the software is fairly straightforward, though it's lacking some extra features like F-Secure Key's Breach Alerts or 1Password's Travel Mode. However, it stores and manages passwords and credit card information just fine.
The record entry feature is a little limited in comparison to others as you can't add your own custom entry fields. However, it does provide some fleshed out address options and card information so it covers most relevant information.
All of your data is stored in the vault, which can be organized via folders. You can sort by favorites or record type, but this is fairly limiting in comparison to the tagging system in 1Password. But, like many aspects of Keeper, the vault is perfectly passable as a storage solution.
Similar to many password managers, there's a password audit section that determines the strength of your codes and keywords. Here, you can assess and fix all of your passwords that are reused or weak.
The desktop client also links to a web-based Admin Console. Here you can choose between active users, their roles, set up teams, two-factor authentication and more. Interestingly, you can also view the overall password strength of everyone on the plan—a nice touch for managing business security.
There's also a Reporting and Alerts section for businesses. It shows where users logged in, when someone added password records, when someone failed to log in and more. This is a fantastic section for users with a big business, as you can monitor attempted attacks and other important events.
On this page, you can also purchase additional Keeper features like an onboarding and training module, an advanced reports module or a chat service for your business. It's a useful little page for managing the business side of Keeper.
There's also the Keeper mobile application, which looks almost exactly the same as the desktop one. It provides access to the vault storage system, any chats you've set up and the security audit page.
The mobile app also has a Keeper DNA section for extra security. Here you can manage fingerprint authentication, two-factor authentication settings, and can even pair with a wearable like an Apple Watch for easy access. This app also prevents users from taking screenshots—perfect for keeping your data safe in the long run.
Keeper's autofill system is fantastic as well, with the pop-up menu including the account email, password and web address for you to view. Then, you have the option to switch to payment cards or addresses for ultimate convenience. While many password managers, like LastPass, simply fill in your username and password, Keeper's method is customizable and fleshed out.
Security
Keeper uses an industry standard AES-256 encryption method to securely save your information. All of it is stored locally. The Keeper team never sees what you're doing, and even when information is sent to them, it's encrypted.
Interestingly, Keeper allows you to customize your PBKDF2 hashing, which is essentially how encrypted your information will be. The higher this setting, the harder it is for someone to break in. However, this means logging in will take longer on a browser, since that information has to be sent for you to access it.
There's also a self-destruct feature which ensures all of your locally stored files are deleted after five failed login attempts. You can enable or disable this at your leisure, but it can be useful in case someone steals your laptop and tries to break in.
Keeper also supports external two-factor authentication, such as YubiKey, adding in yet another layer of security if you own one of these.
Fortunately, Keeper also has a password generator for better keywords. It's similar to other password generators, like RoboForm's or F-Secure Key's, in that you can customize character length on top of which characters and numbers are included.
Similar to other password managers, like 1Password, Keeper's "Zero Knowledge" storage solution (the company will never see your information), is both good and bad. It's good because your data is the safest this way, but bad because if you ever forget your login, the company can't help you recover it.
There is an emergency recovery option, however. You can choose five emergency contacts in case you ever forget your main login info. Each of these can log into your account for a certain amount of time before being locked out again. Also, each emergency contact has to have their own Keeper account and specific account key to participate.
This same method goes for sharing Vault information with other Keeper users. If you send some information to another user, they need an RSA key to access it.
Customer Support
Keeper's customer support was quick and painless. I reached out to them via their live chat support and they got back to me within a minute.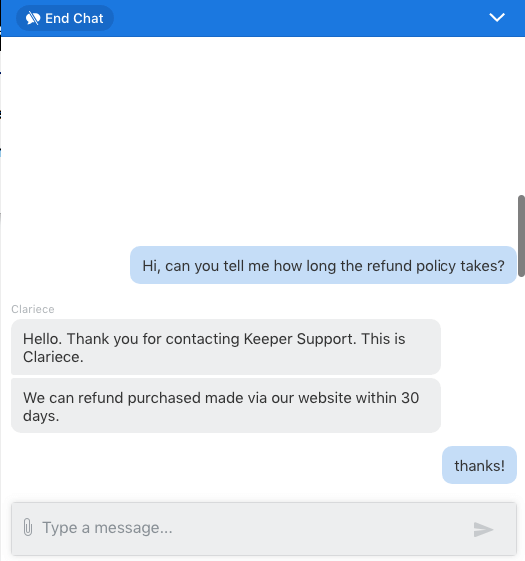 While the live chat is great, you can also call the team, who are available 24/7. Moreover, there's a useful system status guide that tells you when there are service outages, on top of FAQs, fleshed-out user guides and even a Q&A live webinar to attend.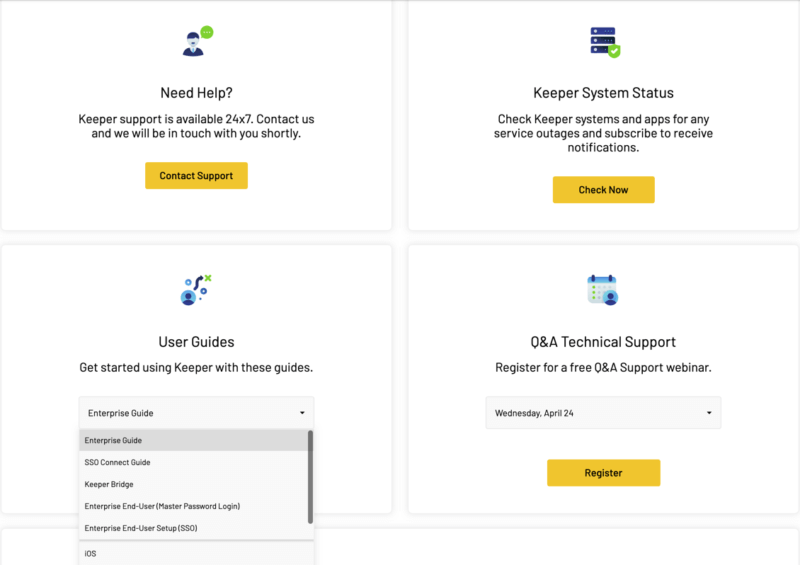 Even more useful are the service's video guides. These consist of screen-recorded content that details exactly which steps are needed to get to a certain solution. There are some for each platform and even a couple for the additional services like KeeperChat and the Admin Console.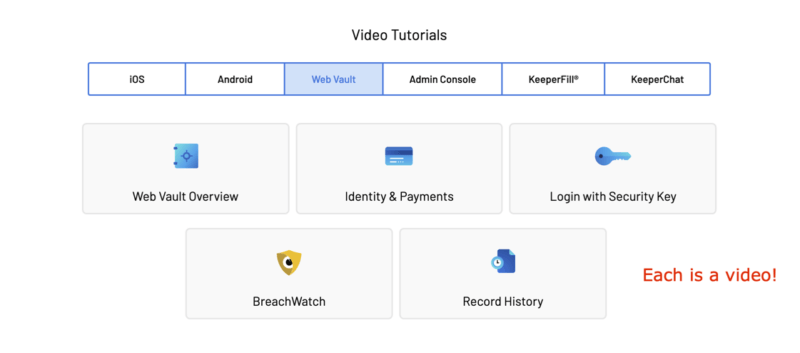 Unfortunately, unlike many of its competitors, Keeper doesn't have any sort of public forum for users to post in. Instead, the FAQs and everything else are all designed by the team.